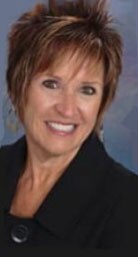 Northwest & Heartland
Regional Education Manager
Marti Santizo, RDH, MBA
Marti Santizo, RDH, MBA is a Professional Education Manager for Colgate Oral Pharmaceuticals covering the Western United States. She joined Colgate following a diverse career as a private practice clinical hygienist, a corporate regional manager, and a dental hygiene program director.
Marti graduated from the University of Louisville, School of Dental Hygiene with her Bachelor of Science degree in dental hygiene. She received her Masters of Business Administration degree from the University of Phoenix. Marti has over 25 years of experience in private practice; 16 years were spent working with Dr. Gordon Christensen, where she sat on the board of Clinicians Report (CR, formerly known as CRA).
Marti is an active member of ADEA and ADHA. She has served on the Utah Oral Health Coalition, Utah Dental Hygiene Educators' Consortium, the Board of Directors for Clinicians Report (CR Foundation), and the Ethics Committee for the Utah Board of Dentists and Dental Hygienists. As both a Corporate Regional Manager and Dental Hygiene Program Director, she has educated dental hygiene students, territory oral care consultants, and practicing dental professionals on best products and practice techniques. Her ability to speak Spanish has been utilized to help with the translation of educational media, and improve patient communication both in the operatory and in her humanitarian efforts in Latin America.
Marti is an avid walker and on weekends she can be found walking through the beautiful Wasatch Mountains near her home.