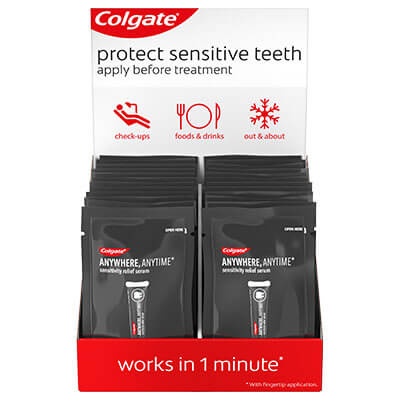 Colgate® Anywhere Anytime® Sensitivity Relief Serum
Rapid relief for sensitive teeth prior to treatment, at-home, and on-the-go. This fast-acting serum works in 1 minute with fingertip application.

Exclusive Arginine and Calcium Carbonate technology
Convenient tube which can be used in-office chairside, at-home, or on-the-go
One package contains 24 individual tubes.

Provides sensitivity relief in 1 minute* (*with fingertip application)

For Dental Professionals:


○ Please use this tube to provide relief from sensitivity prior to professional treatment, per the instructions below. Please provide this same tube to the patient for use post-treatment or as needed.

Patient Usage Directions:

1. Apply the gel directly to any sensitive tooth with your fingertip and gently massage for 1 minute.

2. For best results, focus where your tooth meets your gums and do not rinse after use. Use a pea sized amount and apply as needed

Anywhere Anytime Sensitivity Relief Serum is intended for single patient use.

Arginine bicarbonate, benzyl alcohol, calcium carbonate, cellulose gum, flavor, glycerin, propylene glycol, sodium bicarbonate, sodium saccharin, sodium silicate, titanium dioxide, water

PACKAGE INGREDIENTS:


Tube: 0.16FL OZ (5mL) Sensitivity Relief Serum

Package: 24 0.16FL OZ (5mL) Senstivity Relief Serum Tubes

Important Safety Information:


● Children and adolescents should consult a dentist or physician prior to use.

● Sensitive teeth may indicate a serious problem that may need prompt care by a dentist. Stop use and ask a dentist if the problem persists or worsens. If pain/sensitivity still persists after 4 weeks of use, please visit your dentist. Keep out of reach of children.
Related Products
Colgate Total® Dental Floss

Colgate Total<sup>®</sup> floss was designed to make daily flossing easy and comfortable for patients.

View product

»

Colgate® Slimsoft™ Toothbrush

Designed for patients who desire a deep clean for better gum health, 17X slimmer tip bristles for a deep clean vs end-rounded regular bristles.

View product

»

Colgate Total® Advanced Pro-Shield™ Mouthwash

Colgate Total<sup>®</sup> Mouthwash provides you with a shield of protection for your patients<br />and your practice.

View product

»